Planning for Brännastrand fastigheter's spa hotel in Boden continues. On 14 February, the municipal board decides on land allocation. In order for the hotel to be built, a new detailed plan for the area is also needed.
The municipality of Boden and Brännastrand Fastigheter i Boden AB have for some time discussed the possibility of building a hotel with a spa on Brännastrand, adjacent to the current restaurant. Brännastrand Fastigheter has produced sketches of a 7-storey hotel with 300 beds and a spa at the top.
Read more about the vision: Here is the plan for Boden's new hotel | BodenXT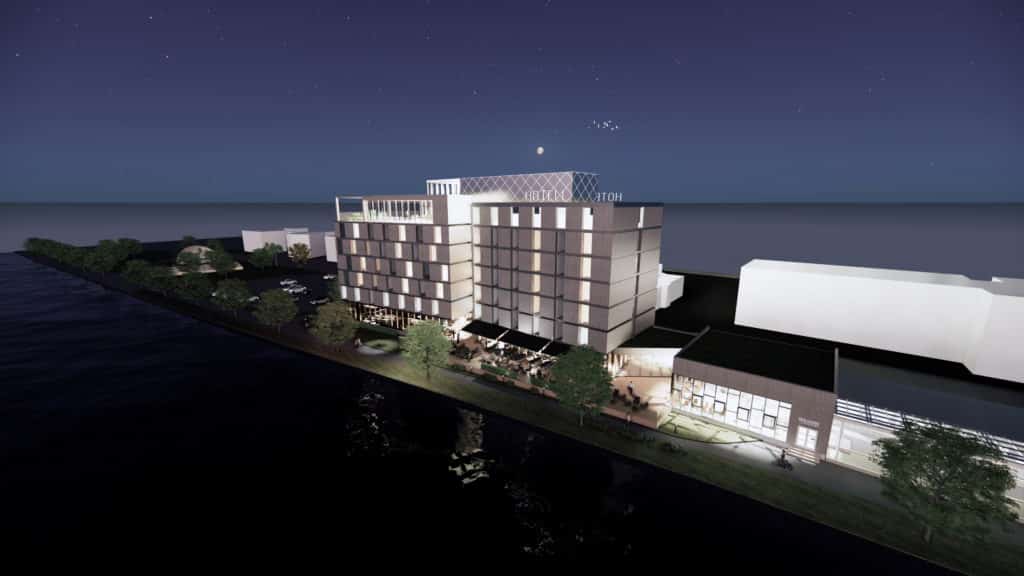 A conditional agreement on land allocation has been drawn up to describe the parties' commitments and the conditions for an extension of the leased plot property. In order for the hotel to be built, a new detailed plan for the area is also needed and the municipality intends to produce a new detailed plan based on the sketches presented by Brännastrand Fastigheter. The issue was discussed at the municipal board's working committee meeting on 31 January. A proposal to approve and sign the land allocation agreement goes on to a decision at the municipal board meeting on 14 February 2022.
If the hotel is to be built on the proposed site, the nearby stage Örat will be affected. A new urban environment program is under development and a first proposal is planned to be presented in April 2022. Within this framework, the issue of continued development of Kvarnängen and Örat will be addressed. The purpose of the urban environment program is to contribute to the development of the city center with quality and sustainability.
The land allocation agreement applies from the time of signing, up to and including one year after the detailed plan has gained legal force. The agreement expires unless the parties have at that time reached an agreement on the extension of the plot right. The case concerns the property Loden Boden 56:41 and part of the property Boden 56: 9.