Piece by piece strategic steps have made Boden's location and capacity so highly interesting that today we are on everyone's lips at government level and in the national media. The road to today's planned industrial investments stretches all the way back to Boden's fortress and the hydropower expansion.
"Are you from Boden? Wow, up there, a lot of stuff seems to be happening now! " It may not have sounded like that a few years ago, but today the national media is shouting about jobs and the wave of relocations to the north. Norrbotten and Västerbotten are mentioned in one live TV debate after another, even in the Prime Minister's farewell speech, Boden was mentioned.
In February 2021, Boden's ketchup effect started But the fact that H2 Green Steel announced that they intended to establish themselves here was not an individual event that suddenly landed in the lap of our municipality.
– This has been preceded by a long investment in electricity-intensive establishments and the circular thinking we have, which connects hydropower, data centers, biogas, residual products and hydrogen. For about ten years, we have had a long-term plan with a focus on electricity-intensive activities, explains Håkan Nordin, business developer at Boden Business Park and one of the people in the project group Business.
The defense
In fact, we can take history much further back than that. The very first piece of the puzzle that makes Boden's location so perfect is that Boden's fortress was built here, in the early 20th century. With its location a bit further into the inland to not be vulnerable from the coast, but with an early railway connection, the city that emerged is absolutely perfect for today's industries that want proximity to both railway and port.
The power
Lule river, which flows through our municipality, was developed early to produce hydropower. The expansion took place gradually from 1915 to 1977 and today consists of a total of 15 power plants. With this, the Lule River is Sweden's most important hydropower source. The electricity grid emerged during the 20th century and in Svartbyn, where H2GS is planning its establishment, the Swedish grid now comes in from three different directions.
The large supply of electricity in combination with parallel expansion to be able to receive electricity, and our cold climate, is a significant factor in a number of data center establishments that have taken place in recent years in Boden. The residual heat that they generate is in turn a source of new opportunities, for example the greenhouse project that is told about in another article.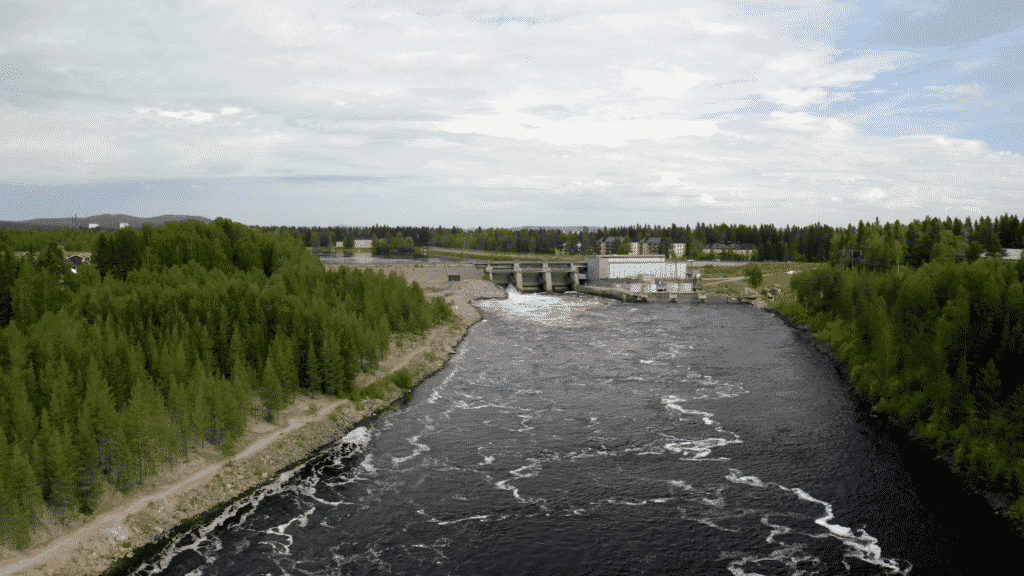 Green municipality
Boden was one of the first municipalities to adopt a green profile at an early stage, with, among other things, its own biogas plant that has now been established for many years and extracts vehicle fuel from food waste and sewage sludge. In Boden, there is a state-of-the-art incineration plant that produces electricity and heat from waste and biofuel, as well as Brännkläppen's waste plant where residual products are taken care of for recycling, treatment and disposal.
Strategic node
As one of eight so-called strategy nodes in Sweden, Boden has also taken a national position for the development of resource-efficient energy use. The strategy node works, among other things, to develop new scalable innovations and solutions that can be disseminated to other actors. The long-term goal is to create large-scale sustainable energy use, for example by using residual heat from H2GS to large-scale greenhouses and using the residual products from the greenhouse for increased biogas production, but also to spread the solutions to other places and cities. The work with the strategy node takes place in collaboration with the Swedish Energy Agency.
Basis for new investments
– We simply started, based on the green transition in the industry, to look at what the conditions are here. It turned out to be very good conditions. There is very good access to electricity. It comes from the Lule river and is stable. There was land with infrastructure available. And that combination was crucial to the creation of the green steel project. It is proof that we have done something good and attracted one of the major players in the green transition, says Håkan Nordin.
Just the beginning
With the innovation center Boden Cleantech Center, Boden takes the energy symbiosis one step further. With the continued development of environmental and recycling technology, an even more closed sustainability circle is created with the goal of becoming Europe's leader in the new smart green.