In competition with game developers from around the world, student Fatima Alkhatib received the prestigious scholarship from one of the world's largest game manufacturers.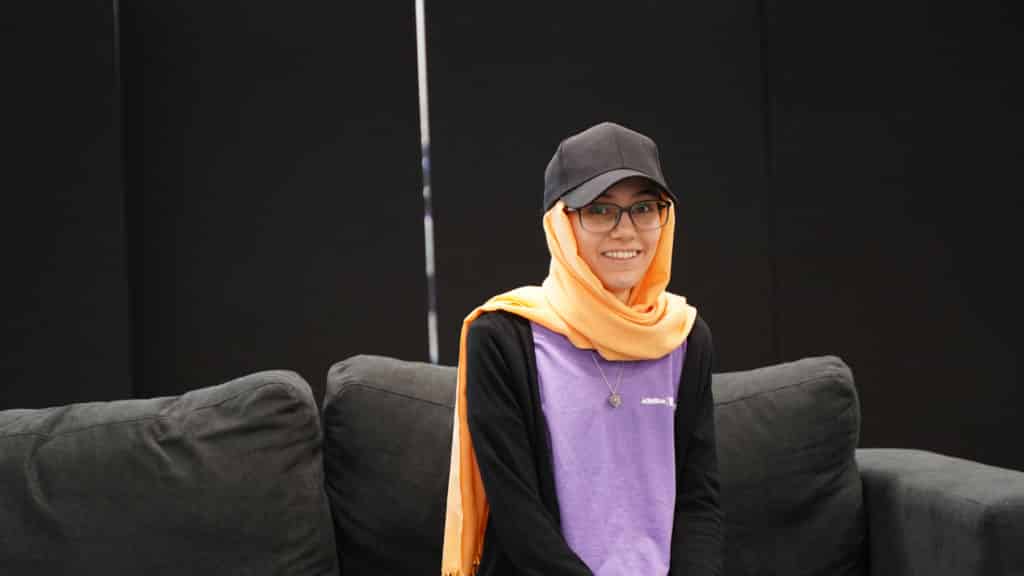 The company Activision Blizzard King is behind some of the most popular games of the 2000s. Some examples from their set are Warcraft, Call of Duty and Candy Crush Saga.
When they presented this year's scholarships for promising women in game development, one of the 15 recipients was a student at Boden Gamecamp. Fatima Alkhatib.
– It still feels surreal that I was named one of the winners this year. For me, it means a lot to have this scholarship on as a merit and I look forward to the doors that it might open, she says.
The fierce competition made her hesitate at first. Was it even an real chance? But once the application was submitted, everything went quickly.
– A little surprisingly, for my own part, I went on from the first selection step, then the second before I suddenly found out that I was one of the winners, says Fatima Alkhatib.
A happy coincidence
The purpose of the scholarship is to create conditions for promising student women and non-binary people, to continue their professional careers in the gaming industry. It includes an opportunity to participate in the world's largest conference for game developers, Game Developer Conference (GDC) and digital networking opportunities via Activision Blizzard King.
– The last weeks of March were full of activities and events. I feel like I've learned a lot and I've had a chance to meet amazing people in the industry and other fellows.
Fatima was born and raised on the West Bank in Palestine. A place that for most people is associated with something other than computer games. She describes growing up as normal, at least compared to other young women in Palestine. For Fatima, that meant that most of the time was spent at home or in school.
There she became early interested in creating things with her hands. Origami and crochet are some of the many crafts she has tested. But that it would lead to artistic creations in the digital world was not something she could imagine then.
– I am a trained interior designer and had not heard of the industry two years ago. It was only when a gaming company saw works from my portfolio and offered me a job as a game artist that I realized what creative opportunities there are. So it was a happy coincidence.
It was also the fortunes of chance that brought her to Boden. Fatima had applied to another Swedish school when she discovered that the scholarship she received had been paid if she chose to attend the education in Boden insted.
– Then I thought, why not. Grasp the opportunity to experience the snow and nature up there. It is a decision I do not regret. I have had a wonderful time and learned a lot. However, it has been a bit cold weather, or really cold, she says and laughs.
"Peaks and valleys"
Even though the scholarship has opened new doors, Fatima plans to complete the education over the next academic year. And that it means another winter is nothing to deter her.
– This is the first time I live alone and just like others in my situation, there have been highs and lows. But lately I feel that it is going in the right direction and in addition to having a lot of fun here, I am learning things that will hopefully make me work with what I want in the future, she continues:
– Right now I hope to be able to find an internship or summer job in 3D animation and get some experience of it before the school's internship period next year. I am also looking forward to completing some projects that I can add to my portfolio. Hopefully it is then some company that appreciates my knowledge and that offers me the opportunity to develop as a game artist.