Sweden's Minister of Energy and Digitization Khashayar Farmanbar visited his hometown of Boden to meet Boden residents, H2 Green Steel, local energy companies and politicians. He also took the opportunity to look into Björknäsgymnasiet and Boden Gamecamp.
Sweden's new Minister of Energy and Digitization in Magdalena Andersson's government is named Khashayar Farmanbar. He grew up in Södra Svartbyn in Boden and is happy that one of his first trips out into the country as a minister was to Boden.
– It feels fantastic, which I have longed to come home to Boden and visit. There is such faith in the future here. There's a lot I recognize but also new homes, shops and activities going on here so it's great fun. But right now I have to say that the best thing is the creaking under the shoes, I really missed the sound of snow when it passes minus 18, then the snow starts to sound different and I think it's cool.
Nostalgia at Björknäsgymnasiet
Farmanbar also had time to visit his old high school, Björknäsgymnasiet, where he talked to students from the technology program and the electricity and energy program.
– It felt nostalgic and fun. It was great fun to see how it has developed and that there is a belief in the future there on the way forward, how Boden and Norrbotten go from an emigration to an influx, an belief in the future that is contagious.
In addition to talking energy and digitization with the students, he got a tour of the school. He looked into his old classroom, looked for his locker, hugged a teacher, and tested the student coffee shop where he ended up in a conversation with a student about fuel prices.
Boden takes the lead
With the establishment of H2 Green Steel, Khashayar Farmanbar thinks that the municipality of Boden shows the way for how to work.
– Here you have a municipality that has been at the forefront and worked hard to get a large establishment here, in addition to an establishment that is incredibly important from an energy and electricity perspective. All the expertise that will be built around hydrogen storage and hydrogen production will be able to be reused in Sweden and the rest of Europe and become an export market for Swedish companies. But also provide lots of jobs, faith in the future and moving into the area, so I think it's the right way to go.
Farmanbar believes that the road to the fossil-free society goes via electrification, but also energy storage in the form of hydrogen and biofuels and a green neo-industrialization where Boden takes the lead.
– The climate threat is one of our biggest issues of fate, but it is not just about that but also about growth, jobs and economic gains, he says.
Increased production and capacity
Many are now wondering whether electricity production and the possibilities for power extraction will be sufficient for the energy-intensive industrial investments in Norrbotten and Västerbotten, within the short time frames that exist.
– I know that Svenska kraftnät is working to increase the electricity network capacity and we are also working very hard with the electricity production that needs to be in place. I believe and hope that we will get there. When I took the job as Minister of Energy, I thought I would need to persuade the industry that they should start electrifying and take that step. Now I'm glad I do not have to do that and we all have to work together to make sure we actually get there as quickly as possible.
A couple of weeks ago, he presented a comprehensive strategy for Sweden's future electricity supply with 67 concrete steps with assignments to authorities and organizations. These include increasing electricity production, upgrading electricity network capacity, building the future market model for electricity systems with smart services, flexibility, district and combined heat and power strategy, hydrogen storage, charging infrastructure strategy and much more.
Specifically, in the near future, among other things, the questions about the electricity grid upgrade that needs to be done, not least for H2 Green Steel, will land on the government's table.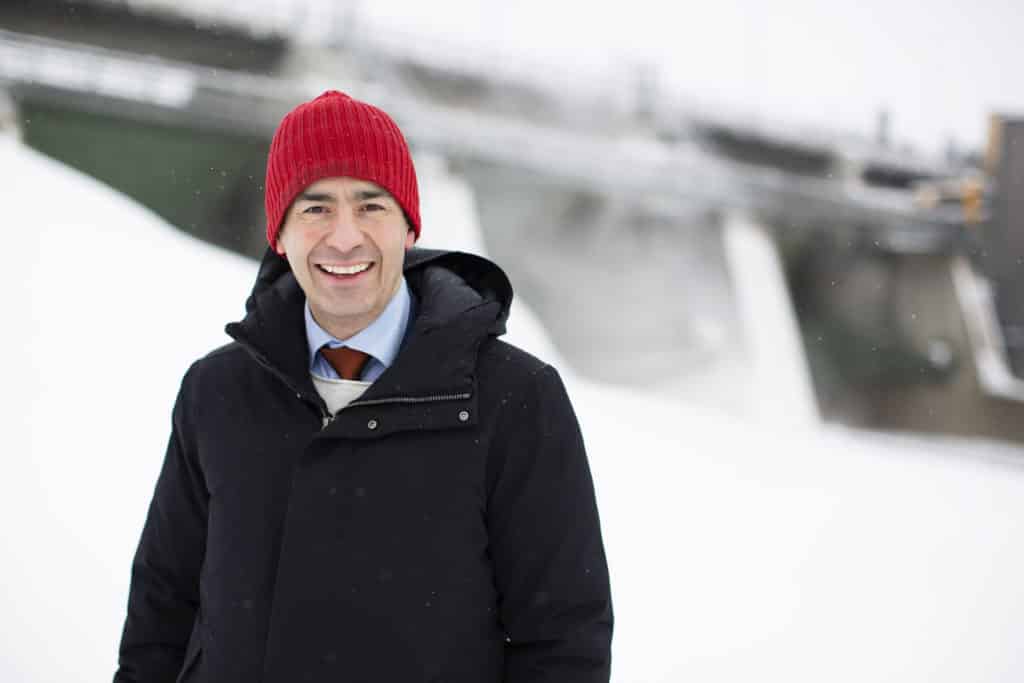 Farmanbar is convinced that the electricity will be enough as there are plans for 350 TWh of offshore wind power in southern Sweden, which is more than twice as much electricity as Sweden uses today. At the same time, he points out that hydropower will continue to be the backbone of Swedish energy production.
On Wednesday afternoon, he will meet representatives from Boden Municipality, Luleå Municipality, Boden Energy and Luleå Energy in a roundtable discussion on energy supply in Norrbotten.
– Above all, I bring my ears to that meeting to see what these actors need for them to succeed best with their ambitions. It will be my main ambition, to ensure that as many municipalities as possible succeed with the new industrialization, more new jobs and be part of the green transition.