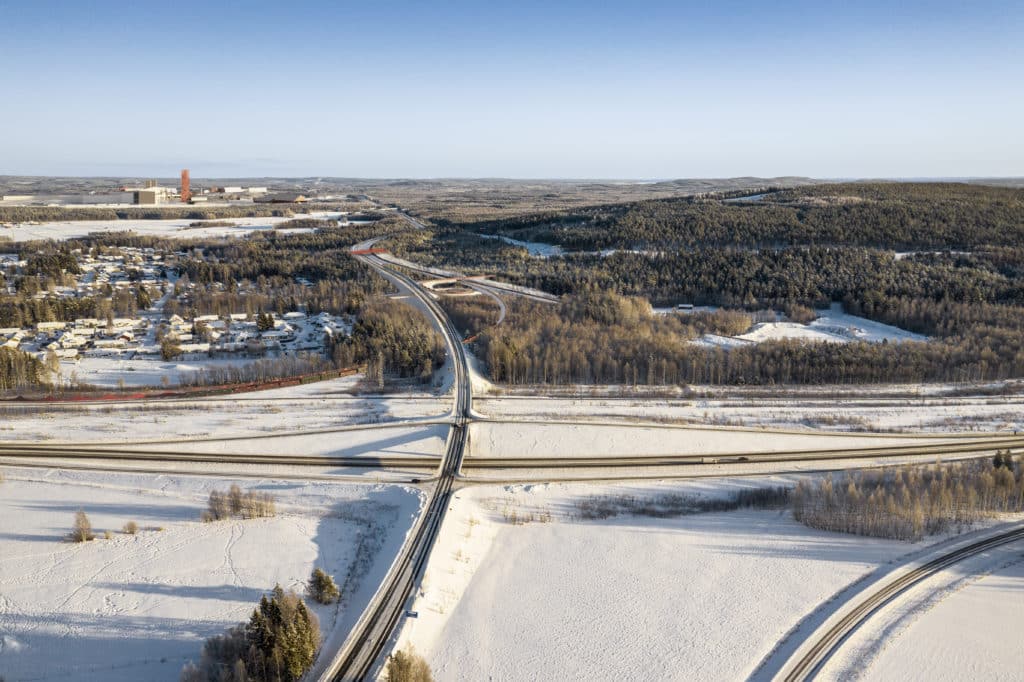 The main purpose of the plan is to enable a new infrastructure corridor from the Södra Svartbyn junction to the planned business area in Svartbyn (Boden Industrial Park). The plan will also ensure the public's access to the Gruvberget outdoor area.
The planning area is located within a designated land reserve for infrastructure in Boden municipality's general plan 2025. The plan proposal is consistent with the intentions of the general plan.
The detailed plan is handled with an extended procedure according to PBL (2010: 900). The procedure has been chosen to take into account that the plan proposal may be of significant interest to the public and can be assumed to have a significant environmental impact. An environmental impact statement has been produced and is presented together with the plan proposal.
The planned area extends from the Södra Svartbyn junction to the Svartbyn (Boden Industrial Park) business area, VU5. At the southwestern part of the planning area is the recreation and outdoor area Gruvberget and north of the proposed road are existing residential areas. A well-developed power line network extends south and parallel to the planning area. The planning area is partly covered by landscape image protection for Lövronningen.
The documents are on display for consultation during the period February 28th – March 31st 2022.
The detailed plan is displayed in the following places:
– City Hall, Physical Planning, floor 5, open weekdays 08: 00-12: 00 and 13: 00-17: 00
– Boden Business Park, Teknikvägen 3, Sävast
– The City Library during regular opening hours
The documents are also available on the municipality's website: https://www.boden.se/kommunen/hallbar-utveckling/detaljplan-for-infrastrukturomradet-svartbyn
Consultation meeting for the detailed plan will be held on Thursday, March 24, at 18:30 – 20:00 in Björksalen, Björknäsgymnasiet, Idrottsgatan 4.
We would like to have any comments on the plan proposal in writing, no later than Thursday 31 March 2022 to Bodens kommun, Fysisk planering, 961 86 Boden Email: fysplan@boden.se
Anyone who has not submitted written comments no later than the last day of the review phase may lose the right to later appeal the City Council's decision to adopt the detailed plan.
Contact:
Cecilia Kvibacke, Development and Planning Manager Boden Industrial Park, tel: 0921-627 06
Lars Andersson, Planning and Development Manager, tel: 0921-621 43